Presbyopic Correcting Lenses - Multifocal and Accommodating
YOU CAN ELIMINATE YOUR NEED FOR GLASSES!
The first dysfunction of your eyes' natural crystalline lens is the inability to focus on near objects or accommodate. This condition is called presbyopia. Presbyopia usually starts in the early 40's as the natural lens begins to lose elasticity. Patients may now require reading glasses or bifocals. The second dysfunction of the lens is a clouding or opacification. This is called a cataract. Cataracts can cause a wide range of symptoms from poor night vision, glare, halos, difficulty reading fine print, and reading information on the television. For over 50 years ophthalmologists have treated cataracts by removing the clouded natural lens and replacing it with an artificial single focus lens.

Patients who undergo single focus lens implants and have no astigmatism will still require reading glasses, bifocals or progressive eye wear. Now, that has now changed!

Now patients can select to have presbyopic correcting lens implants such as PanOptix®, Crystalens®, TRULIGN™, ReSTOR® and Tecnis® multifocal that can eliminate cataracts and help presbyopia at the same time.

Many brands of multifocal lenses have emerged in the market. At the Kaufman Eye Institute, we help you select the right lens that will best match your lifestyle. We understand the impact of quality vision and want the very best for you.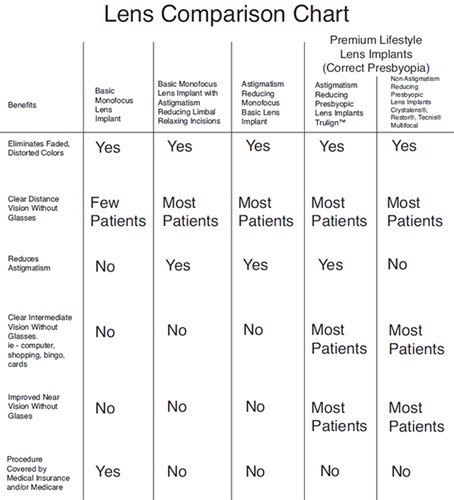 Are you tired of wearing reading glasses or contacts? Are you considering cataract surgery or a refractive lens exchange procedure? Now there are new ways to see at all distances by having the opportunity to not have your eyes dependent on eye wear. New premium presbyopic correcting lenses offer many benefits in correcting your vision after cataract or refractive lens exchange surgery.

It used to be that after cataract surgery, monofocal lens implants were the only option available to help achieve even greater visual results. A monofocal lens is a lens that bends light to a specific focus point on the retina of the eye. It is called a monofocal lens because the light can only be bent to one focus point. This type of lens can provide excellent vision but only at a distance, and the patient may still be required to wear reading glasses after surgery. With new advancements in technology there are many options to choose from when it comes to selecting an intraocular lens implant. The new premium presbyopic correcting lenses can provide near, intermediate, and far distance vision and eliminate dependency on reading glasses after cataract surgery.
Choosing The Right Lens Option For You!
Until recently cataract patients received monofocal lens implants that had only a single focus. This meant you had a choice of correction for either far or near vision. If you suffer from presbyopia like many people over the age 50, this would mean that you still need glasses for either reading or for distance vision. The FDA has approved several multifocal and accommodating lens implants for use by certified ophthalmologists. The presbyopic correcting lenses can increase your chances for a life free of dependence on glasses or contacts after cataract surgery for near, far, and intermediate vision. If you have worn glasses for years, this might be an opportunity for you to eliminate this hassle from your life.

The implantation procedure is the same for all types of implants. The main point of differentiation between the implants is in the type of vision they provide.

Stuart J. Kaufman, M.D., Medical Director of the Kaufman Eye Institute states, "for most adults over the age of 40, presbyopic correcting implants offer an exciting and significant improvement in vision. Learning that you have cataracts was generally met with disappointment and sometimes even disbelief. Knowing that their vision is correctable is certainly reassuring. Learning that with lifestyle enhancement presbyopic correcting intraocular lens technology their need for eyeglasses may be reduced substantially or even eliminated changes their outlook." Dr. Stuart J. Kaufman, M.D.,is a Diplomate of the American Board of Ophthalmology, the first surgeon in Hillsborough and Pasco Counties to perform foldable lens implant surgery since FDA approval, the first ophthalmic surgeon to perform no-stitch Insta-Sight™ cataract surgery and the first to perform Crystalens® and TRULIGN™ surgery in Central Florida. The Kaufman Eye Institute is a Certified Center for Crystalens® Excellence. Dr. Kaufman has been caring for patients in the Tampa Area area since 1981. He has also performed over 40,000 cataract surgeries and 90,000 eye surgeries.

Imagine...

• Being able to see your world as well as you did when you were younger, without the help of glasses or contact lenses.
• Being seen the way you want people to see you.  Youthful.  Energetic.  Vibrant.
• Being able to see the way you want to see.  Near, far and all distances in between.  Seamlessly.  Effortlessly.  Naturally.
• Never missing a child's smile, the sparkle of a diamond, a cloud that looks like a face, an important plot twist in a mystery novel.

Imagine a way to do it. Through your own eyes. Imagine all the possibilities. Imagine Presbyopic correcting implants. 
---
PanOptix Trifocal Lens
The PanOptix intraocular lens is one of the first trifocal intraocular lens.  This lens allows for excellent vision at both distance, intermediate, and near vision.
---
Crystalens®
Crystalens® is an accommodating implant. This lens is designed with two hinges that move slightly forward and backward in the eye. This allows the lens focus to change. Crystalens® functions like the natural lens in our eye and it accommodates to all different vision distances.

Crystalens®, a single-focus lens, is a cataract replacement lens that works naturally with your eye muscles to give you the quality of vision you enjoyed when you were younger.

The revolutionary design element that makes Crystalens® the state-of-the-art accommodative replacement lens are hinges which are designed to allow the lens to move (accommodate) and focus on objects that are near, far and all distances in-between seamlessly.

Unlike old-style fixed focal lenses, which didn't move, Crystalens® has the ability to move, thus focusing as your eye's natural lens does.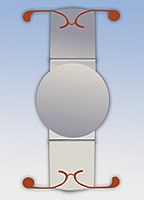 The Crystalens® offers significant advantages over other kinds of lens implants and corrective lenses.

• Standard (single vision) lens implants don't have the ability to provide a full range of vision. Most people who have single vision lens implants MUST wear glasses for middle and near vision. With Crystalens®, you may have the opportunity to be glasses free when it comes to reading, driving, or even working on a computer.

• The Crystalens® has the unique ability to focus on objects at varying distances using the eye's natural muscle. This means the Crystalens® can provide sharper vision, without corrective lenses, throughout a full range of vision from near to far and everything in between.  If you are looking for a full range of vision at all times, ask the Kaufman Eye Institute and they will give you a thorough examination to determine which presbyopic correcting lens is right for you.

• The Crystalens® FDA one-year clinical study results indicate that 92% of the people enrolled in the study (implanted bilaterally) could see 20/25 or better at distance, 96% could see 20/20 at arm's length and 73% could see 20/25 at near without glasses or contact lenses.
How long does it take to heal?
While everyone heals at a different rate, most patients return to their normal work or lifestyle in a day or two. The focusing ability of the lens will not be fully realized for nine to twelve months after the procedure when the eye muscles are "built up." The eye must relearn how to focus on objects at various distances in order to see clearly.  Some patients may require reading glasses to see fine print.

Kaufman Eye Institute is a certified center of Crystalens® excellence in the Tampa Bay area. We would be glad to answer any questions you have about Crystalens®. We know that with so many options out there for intraocular lens implants, and choosing the right one for your specific situation can be tough. The Kaufman Eye Institute has the experience and technology to thoroughly examine your eyes and then to help choose the right path for your best visual outcome. If you or a loved one has cataracts and you are searching for the right cataract surgeons in Florida, call the Kaufman Eye Institute today and we will help you get started on your new life with your new vision.
---
TRULIGN™ Astigmatism and Presbyopic Correcting Implant
For years, U.S. surgeons were able to correct either astigmatism or presbyopia with intraocular lenses, but not both. With recent F.D.A. approval of the TRULIGN™ toric, Dr. Kaufman is able to expand the application of presbyopic correcting technology to meet the needs of many of his patients with corneal astigmatism. Dr. Kaufman was one of the first surgeons in the country and the first in the Tampa area to implant the TRULIGN™ intraocular lens. The TRULIGN™ lens is for patients with or without presbyopia who desire a reduction of their astigmatism with increased spectical independence and improved vision without glasses for distance, near and in between. Like the Crystalens®, many patients may need reading glasses for fine print and with low lighting.
---
ReSTOR®

Our eyes are continuously focusing on objects at different distances. Whether it be watching television, sitting at a computer, participating in a sports activity, such as golf or tennis, or driving, our eyes automatically focus on different things at different distances quite quickly. As we age, the ability for our eyes to change focus, or accommodate, weakens, which leads to the need for bifocals and reading glasses. By combining the strengths of apodized diffractive and refractive technologies, the multifocal AcrySof® IQ ReSTOR® IOL provides quality near, intermediate and distance vision and increased independence from reading glasses and bifocals. In fact, many people who have undergone a ReSTOR® lens implant have eliminated their need for glasses completely. Imagine playing golf, fishing or swimming without glasses.

The ReSTOR® IOL is indicated for patients who desire the following:
Excellent distance vision
Excellent reading vision
Designed for heavy readers
Patients may need a slight prescription for intermediate or computer tasks and experience some glare and halos at night.
One study showed that 85% of patients who had a Restor 2.5 Add were glasses independent after cataract surgery.
---
Tecnis® Multifocal Implant
If you have been diagnosed with cataracts, you now have the option to upgrade your cataract surgery by choosing a presbyopic correcting lens that can provide clear vision at all distances and all light levels without glasses! According to clinical trials, nearly 9 out of 10 patients who receive the Tecnis Multifocal IOL (intraocular lens) during cataract surgery do not require glasses!

Imagine not needing reading glasses and being able to see clearly at night! This is now a possibility with the Tecnis Multifocal IOL!  Some patients may experience halos at night.

The Tecnis Multifocal IOL is implanted during cataract surgery. Ask Dr. Kaufman at the Kaufman Eye Institute for more information about your presbyopic correcting lens options at your next appointment.