Astigmatism occurs when the corneal surface is oval rather than round, shaped more like a football than a basketball.  Most astigmatic corneas have two curves—a steeper curve and a flatter curve. This causes light to focus on more than one point in the eye, resulting in blurred vision at a distance and near.  Because astigmatism causes light rays entering the eye to bend unequally, there is a distortion of the image on the retina resulting in blurred vision. Uncorrected astigmatism causes ghosting or shadowed images.  Astigmatism can be corrected with glasses, contacts, or surgically. The most common surgeries to correct astigmatism are Limbal Relaxing Incisions (procedures that involve placing microscopic incisions on the cornea), LASIK, PRK and astigmatism reducing intraocular toric lens implants. The objective of these procedures is to reshape the cornea so that it becomes more spherical and uniformly curved. Limbal Relaxing Incisions (LRI), TRULIGN™ toric accommodating intraocular lens implants and toric monofocal intraocular lens implants can be used during cataract surgery to reduce astigmatism. This helps you achieve better vision without glasses.
Astigmatism Correcting Procedures and Implants
---
Limbal Relaxing Incision
Limbal Relaxing Incision (LRI) is a surgical procedure to treat astigmatism. It is often combined with cataract surgery to reduce pre-existing astigmatism. The result is better vision without glasses. During surgery tiny incisions are placed on the periphery of the cornea (called the limbus) resulting in a cornea that is more rounded. The astigmatism is thus reduced and uncorrected vision improved. The procedure can be completed in a few minutes. There is usually little if any post-operative discomfort.

Limbal relaxing incisions have gained widespread acceptance amongst cataract surgeons, resulting in better post-operative vision without glasses. The procedure can also be performed separate from cataract surgery in individuals whose primary refractive error is astigmatism.
---
Monofocal Toric IOLs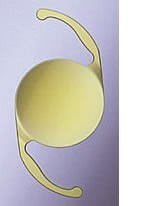 The Kaufman Eye Institute offers toric IOLs for astigmatism reduction combined with cataract surgery. The recent advancements in intraocular lens (IOL) technology have now made it possible to provide an effective solution for patients that have astigmatism. Until recently, patients that were IOL candidates and had astigmatism, had no option built into the lens which would correct the astigmatism aspect of their visual condition. Surgeons would typically perform refractive surgery (LASIK) after the insertion of an IOL to improve distance vision without glasses or perform limbal relaxing incisions (LRIs) at the time of cataract surgery. If patients did not have astigmatism correction after IOL implantation, then contacts or glasses would be required to correct the astigmatism. With advancements in the optics of IOLs the manufacturers have now been able to reduce the astigmatism by inserting a toric lens implant and improve distance vision without glasses.

If you have been told that you have cataracts and you also have astigmatism, new premium lifestyle lens implant options are available to help minimize your need for distance glasses after surgery. If you are unsure if you have astigmatism, please consult with Dr. Kaufman.
---
TRULIGN™
For years, U.S. surgeons were able to correct either astigmatism or presbyopia with intraocular lenses, but not both. With recent F.D.A. approval of the TRULIGN™ toric, Dr. Kaufman is able to expand the application of presbyopic correcting technology to meet the needs of many of his patients with corneal astigmatism.  Dr. Kaufman was one of the first surgeons in the country and the first in the Tampa area to implant the TRULIGN™ intraocular lens. The TRULIGN™ lens is for patients with or without presbyopia who desire a reduction of their astigmatism with increased spectical independence and improved vision without glasses for distance, near and in between. Like the Crystalens®, many patients may need reading glasses for fine print and with low lighting.

Kaufman Eye Institute offers surgical solutions that will reduce or even eliminate of astigmatism, which can free you from needing glasses and contact lenses. Kaufman Eye Institute will be happy to provide cataract surgery consultation so that you can choose the best intraocular lens and procedure for your cataract surgery.