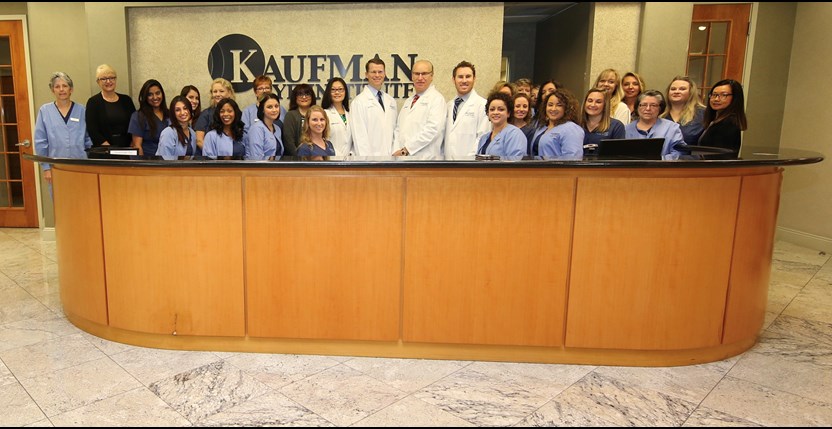 At Kaufman Eye Institute, our ophthalmologists and optometrists are pleased to serve the greater Tampa Bay Area, including Wesley Chapel, Sun City Center, Zephyrhills, and Bushnell, Florida.  We invite you to meet our team of eye doctors, who are eager to assist you. Our staff consists of ophthalmologists, Dr. Stuart J. Kaufman, Dr. Walter Moscoso M.D., Dr. Craig Munger M.D. PhD, Dr. Joseph Faust M.D., and Dr. Jonathan Kaufman as well as optometrist Dr. Carol Marquis O.D. and a staff of opticians.
Often, the first question that people ask when searching for an eye doctor is: "What is the difference between an ophthalmologist, an optometrist, and an optician?"
Here are some simple explanations of what each profession specializes in.
 What is an Ophthalmologist?
An ophthalmologist is a medical doctor who specializes in the medical and surgical treatment of eye diseases and other conditions.  Ophthalmologists also often provide routine vision care services such as prescribing eyeglasses and contact lenses.  The training required to become an ophthalmologist includes at least four years of medical school (after undergraduate college); a one-year internship; and a three-year residency in ophthalmology at an accredited teaching program.  At Kaufman Eye Institute, our Board-Certified Ophthalmologists specialize in Cataract Surgery, LASIK, Macular Degeneration, and Glaucoma Surgery.
What is an Optometrist?
Doctors of Optometry are health care providers that examine, diagnose and treat disorders of the eye and associated structures.  At Kaufman Eye Institute, Our Board Certified Optometrist, Dr. Timothy Parker provides primary eye care including medical evaluation and treatment for conditions that do not require surgery and routine eye examination for glasses and contact lenses.  Dr. Timothy Parker performs pre and post operative care of cataract and refractive surgeries.  Optometric education generally consists of four years of undergraduate study and an additional four years of optometry school.  All optometrists must complete a multi part national board examination and practical skills assessment before becoming licensed.
What is an Optician?
An Optician is a professional who fits and dispenses eye wear directly to the consumer.  They analyze and interpret prescriptions written by ophthalmologists or optometrists to determine which eyeglasses are best suited to the patient's lifestyle and visual needs.  The optician takes eye measurements to insure proper lens placement in the eyeglasses' frame and verifies the accuracy of the finished product.  They also may manufacture (grind) lenses from raw materials and cut them to fit into the frame.  Opticians may hold an associate opticianry degree or may have apprenticed for a required number of hours.  In most states that require an optician to be licensed, candidates must pass an examination given by the American Board of Opticianry (ABO). Some states also require that candidates pass a state board exam.  We invite you to see all that Kaufman Eye Institute has to offer in designer eyewear, prescription eye glasses, prescription sunglasses, and custom contact lenses by visiting one of our Optical Shops.