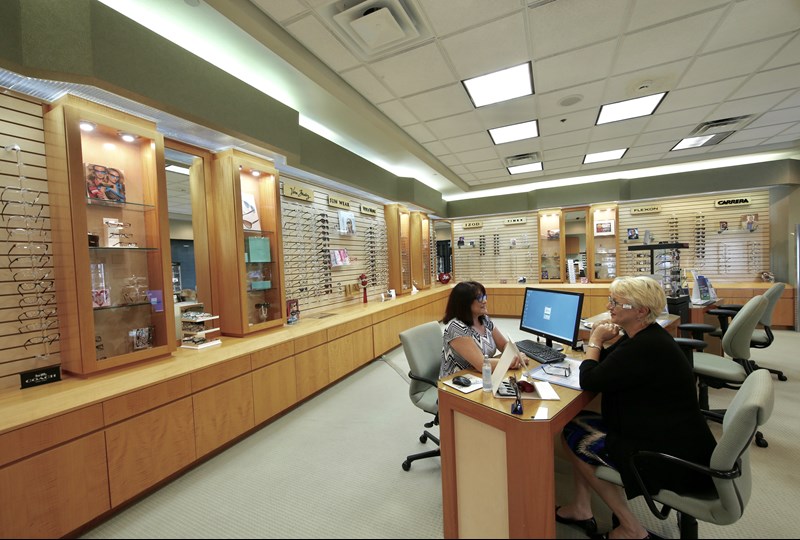 The Kaufman Eye Institute Optical Shop has more than three decades of professional optical expertise.  During this time, the Kaufman Eye Institute Optical Shop has earned the complete trust of patients for their optical needs. The optical shop was
voted Best Optical Shop in all of Tampa Bay by the Tampa Bay Times Best of the Best People's Choice Awards
 for 2019, 2020, and 2021.  Whether your child is getting their first pair of glasses or you are getting your first pair of progressives, you will find a broad range of frames and lenses for all ages, prescriptions and lifestyles.
The Optical Shop provides a continuation of your vision care, ensuring that your prescription is properly filled and that you receive the same level of personal professional attention. Our experienced, professional optical staff can explain the benefits of each and every product and assist you in deciding what kind of eye wear best meets your lifestyle needs.
The Optical Shop offers a full range of quality frames and lenses, including designer frames and 'specialty' lenses such as ultra thin, no line multifocal, high index, and transitions. The Optical Shop at Kaufman Eye Institute offers a wide range of sports frames and lenses (for golf, fishing, pool, beach, hunting, gardening, etc), occupational (for computer, crafts, trades, etc), sunglasses and safety (industrial) lenses.
Our trained optical staff are all either licensed opticians or registered apprentice opticians that receive many hours of professional training every year from industry leaders.
In-House Lab
All four Kaufman Eye Institute locations are equipped with state-of-the-art, in-house optical labs to allow us to provide quick turn around time and expert precision by our qualified optical staff.  All our labs can tint, cut and edge lenses the same day.  All labs have high-tech pattern-less edgers that can trace the frame shape without having you leave your frame behind.
The Kaufman Eye Institute Optical Shop carries frames and lenses from top manufacturers including:
Coach
Flexon
Izod
Jaguar
Maui Jim
Coasta
Michael Kors
Oakley
Silhouette
Sophia Lauren
Stetson
Tiffany
Vera Bradley
Vera Wang
Versace
Transitions Lenses
Varilux Lenses
Crizal Lenses
Drivewear Lenses