Welcome to the Kaufman Eye Institute! See Better. Live Better®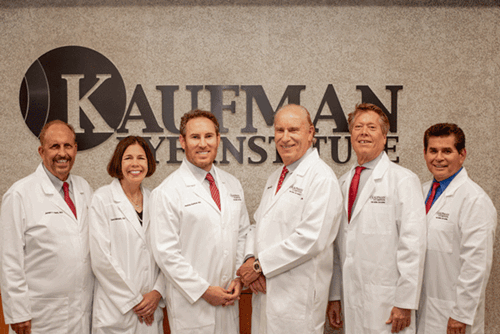 Stuart J. Kaufman, MD founded the Kaufman Eye Institute in 1981.  For more than thirty years, the Kaufman Eye Institute's unwavering commitment to personalized patient care, advanced surgical expertise and outstanding results have merited the practice a reputation for excellence in eye care.  Tens of thousands of patients from all over the country have trusted their vision to our dedicated team of skilled professionals.
Dr. Kaufman is the developer of InstaSight Cataract Surgery.  He was the first surgeon in the Tampa Bay Area to use FDA approved foldable intraocular lens implants during cataract surgery, the first surgeon to use the accommodating Crystalens, and the first to perform a procedure with the new accommodating Trulign Toric implants.
We understand that your life depends on your vision.  The physicians and staff of the Kaufman Eye Institute are dedicated to providing the latest advances in eyecare to meet your changing needs.  These services range from Lifestyle Cataract Surgery to the evaluation and management of Glaucoma, Cosmetic Eyelid Surgery, Diabetic Retinopathy, Macular Degeneration, Macular Holes, Floaters and Flashes, Comprehensive Vision Care, Contact Lens, Laser Vision Correction (LASIK, PRK) and Optical Services.

Our History
The Kaufman Eye Institute has been serving the Tampa Area with locations in the communities of Sun City Center and Zephyrhills since 1981.  In 1997 a facility of the Kaufman Eye Institute opened in Bushnell.  In 2011 an Institute was opened in Wesley Chapel, to serve Tampa, New Tampa, Land O'Lakes and Lutz. The Kaufman Eye Institute marked its 40th Anniversary in 2021.  In 2019, 2020, and 2021 we were voted Best Eye Clinic and Best Optical Shop in the Tampa Bay Times Best of the Best People's Choice awards.